In Person and Virtual Speech Therapy
Physical Therapy – In person and Virtual
Nutrition and Lifestyle Medicine Consultations
Therapy vs Exercise/Wellness
How do I know what's best for me?
We believe everyone should have a comprehensive consultation with our physical therapist to determine what they would most benefit from.
Our exercise programs (group and individual exercise) include a comprehensive assessment when someone first joins, and every 6 -12 months after that. (These assessments may be covered by your insurance.)
We assess many areas of function including fine motor dexterity, strength, processing speed, walking speed and quality, balance, endurance and more! Afterwards, we will provide you and your neurologist with a custom report comparing your scores with  age norms and then we use them to set goals and assess where someone is regarding their function.
If you are interested in completing this assessment separate from regular exercise sessions, that can be arranged. Again, this may be covered by your insurance. The assessment typically takes 1.5 hours and the cost is $250/session (if paying out of pocket).
Can't get to the gym all the time but want expert guidance on the right exercises to do to kick Parkinson's butt? Want constant access to your therapists? We have an app for that! After a comprehensive consultation, we will set up your exercise and wellness program and interact with you via our app. Variable plans available. Maintain expert guidance at all times, in or out of the gym.
$30-$75|mo
*May be covered by insurance
Join us for our signature Fight Club exercise programming! We have options for everyone, including Rock Steady Boxing, PWR! Moves and PWR! Moves circuit, Cardio, Balance Boot Camp, TRX Strength and mobility, Functional Voice group,  micrographia (handwriting) and cognition groups. More to come!
We believe that intensive exericse is THE NUMBER ONE way to combat Parkinson's Disease and delay disease progression.
We will soon be adding vagus nerve stimulation classes, with a focus on yoga, meditation, breathing techniques and more to help calm the nervous system as well. This aspect of training is JUST as important as the rest.
Individual Exercise Sessions
Some of our members prefer to exercise with us 1:1. You will work with a Parkinson's specialist physical therapist and we can tailor the entire workout to your goals. This is ideal for someone who has utilized their insurance benefits, but would like to have continued, individual support.
Physical Therapy & Wellness Assessments
Receiving a diagnosis of Parkinson's can be overwhelming. Exercise is one of the most important treatment strategies to help people improve their health and is the only treatment proven to slow the progression of Parkinson's over time.
We have found that when getting started with an exercise program for Parkinson's, it is very helpful to work with a physical therapist 1-on-1 so that exercise can be personalized and optimized for the individual . Classes can also be part of this program if the schedule allows! This ensures the individual has a baseline of functioning and has a safe plan as well as the knowledge of what specific exercise will benefit them the most. It also provides an opportunity to determine if you would benefit from any other specialized interventions such as: nutrition counseling, lifestyle modifications, nervous system calming, dry needling, vestibular treatment, treatment of dystonia or functional neurological dysfunction, any  cognitive issues, pelvic floor therapy to assist with bowel and bladder dysfunction, handwriting or concierge services.
***Services may be covered by your insurance**
$80 – 250|visit
* May be covered by insurance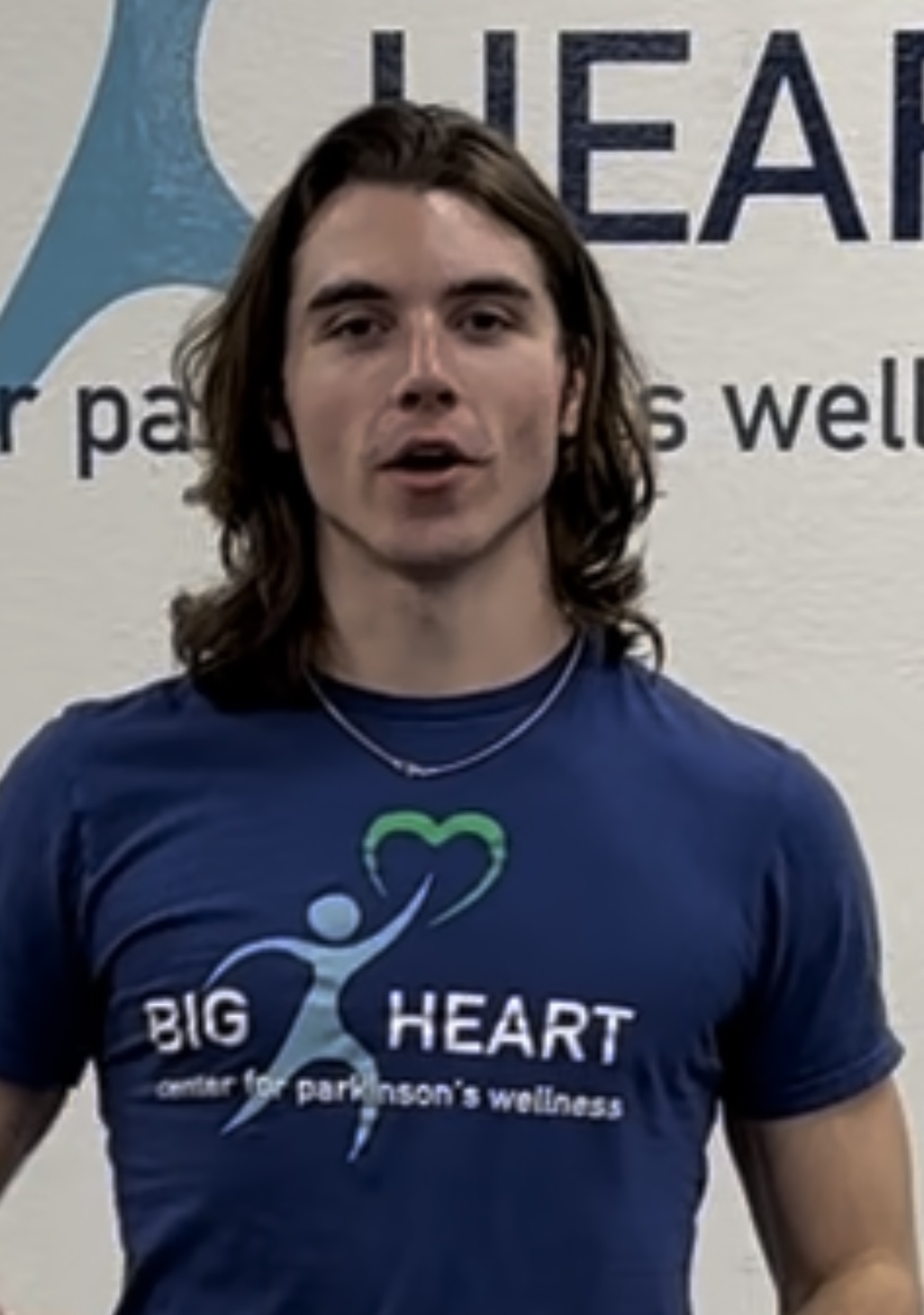 PERSONAL TRAINING
Blake, Personal Trainer and Coach
Most personal trainers are not educated in Parkinson's symptoms and training to optimize both strength and the nervous system but our trainer Blake is! He will customize a program for you that both gets you stronger and minimizes your Parkinson's or other chronic neurological symtpoms.
Small group training is an option as well.
$40 – 50/session; packages available
*Not covered by insurance
I was diagnosed with Parkinson's in 2010 and was told I needed to exercise and maybe do boxing. I joined a gym and did a few exercises there for awhile. And then I found out the Parkinson's Foundation was funding some workouts at TCU in 2019. Alison was one of the instructors. She also came to see me for therapy at my home during the pandemic. After the pandemic, I followed her to classes in FW. I'd had PT from a few other therapists but Alison is the one I would follow anywhere. She has the best workouts of anyone. She's attentive, knowledgeable and caring. She won't hesitate to call you out (me) if I'm not doing something right, but that's okay. We need a push sometimes. She is truly the greatest and she knows her stuff. You don't get bored working with her. I owe her a lot for her encouragement.
Thank you so much for helping me it was literally life changing! Thank you for pushing me and believing I could overcome it even when some days I didn't believe in myself.
Alison is the best! I was diagnosed with young onset Parkinson's (YOPD) 15 years ago. Luckily I stumbled upon Alison a couple years ago & it's made a world of difference in my life. During the past 2 years, I've had back and brain surgeries. Alison has been there walking beside me, encouraging me each step of the way. She challenges us, knowing what we need. In group classes, the humor is priceless on days when it's tough to smile. Great group, great people & great coaching!
Our most popular Fight Club Exercise Memberships
Limited
3 classes per week

Personalized exercise program via our app

Community

Access to our support group and education sessions
Unlimited Plus
Unlimited access to 10+ classes per week

Open Gym access

Personalized exercise program via our app

Comprehensive personalized assessments

Communication with your neurologist
Per class
Access to class at your will/according to your schedule

Access to our Parkinson's community and gym

Access to our education sessions and support group

**Comprehensive assessment recommended beforehand – may be covered by insurance**
***At this time, we accept Medicare and Medicare Advantage PPO plans. We are out-of-network with all other insurances. We are more than happy to check your out of network benefits. Note that this applies to therapy only; all classes are cash pay. Please call with any questions.****
Contact us now to get started on your total brain and body wellness program!