"I just want to be able to go to ONE place and have everything I need to fight back against Parkinson's Disease." – Dick Frazier
Coach Rachel Baugh, PTA has been practicing with clients with neurological disorders her entire career. She has a passion for helping people move better and is super excited to help Big Heart redefine what living well with Parkinson's and other chronic disorders means. She loves Mortal Kombat, her husband and her nieces. 
Strength Training
2-3 days a week of strength training is recommended by the Parkinson's Foundation. We incorporate strength moves into most of our classes. 
Mobility
PWR! Moves classes are designed to improve mobility and flexiblity in all planes and directions for ease of movement. We also throw in balance, agility and dual tasking to round out a complete Parkinson's focused evidence-based exercise program.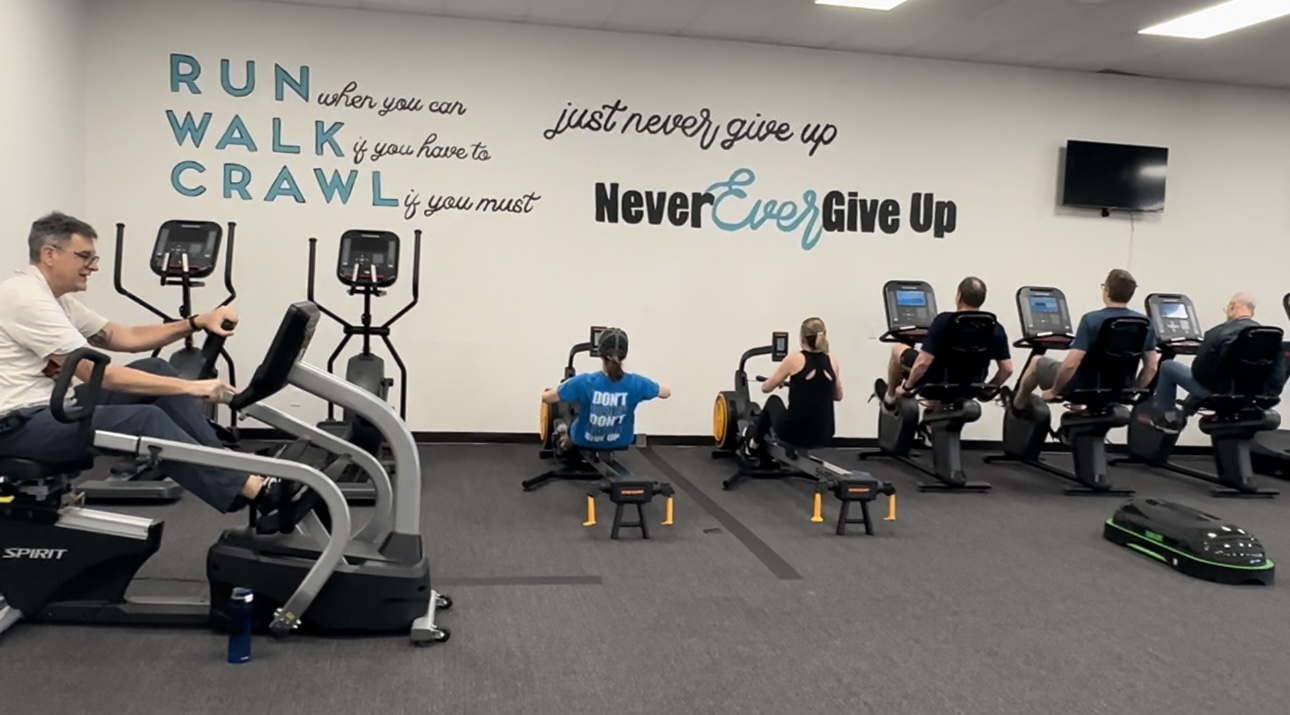 Cardio Classes
Aerobic exercise has been proven consistently to improve brain functioning and decrease symptoms of Parkinson's. 
Dick Frazier, Founder
Person with Parkinson's Disease
Dr. Alison Geymer, PT, DPT has been working in neurological physical therapy for 16 years. She discovered a passion for working with people with Parkinson's early in her career, noting that the intense exercise she loved could also be the mest medicine for slowing down the disease process. 
She has also spent the last 2 years working in pelvic health as well as becoming a Functional Medicine Certified Practioner, Certified Nutritional Physical Therapist and a Functional Nutrition for Pain Practitioner. She believes in an integrative and holistic approach to managing Parkinson's; combining exercise, therapy, education, socialization, nutrition, personalized labwork and supplementation. She is certified in LSVT BIG, PWR! Moves, Rock Steady Boxing and has had extensive training in vestibular and functional neurological disorders; both of which often coincide with other symptoms in people with Parkinson's.
When you meet with Dr. Alison for the first time, her goal is to determine how to optimize your therapy, exercise and nutrition in order to reach YOUR GOALS for life. Exericse is THE NUMBER 1 best medicine to SLOW THE PROGRESSION OF PARKINSON'S DISEASE; better than the actual medications you take. It is super important and therefore, you should do something that you love doing. Boxing may not be your thing, but maybe strength training is. You may not be ready for being out in a big group or maybe exerise in general is new to you. Alison will work with you and get you started on a solo plan until you're ready for more interaction. The key is YOU. We want to educate you and partner with you so that you can make the best decisions to combat this disease.
Not sure if our program is right for you? Reach out to schedule a free 15 minute discovery visit to learn more! (This can be extended at a cost.)