TAKE CONTROL OF YOUR HEALTH
SIGNATURE EXERCISE PROGRAM 
Training With Alison Geymer and her team
Tackle your Parkinson's head on with the best of the best. The Elite. The experts who know that the current system is lacking. The experts who believe that comprehensive consults with a Parkinson's physical therapist AT DIAGNOSIS is THE BEST way to stay ahead of the disease process and optimize longterm outcomes.
Staying on top of optimal exercise, movement and nutrition can slow down and possibly even prevent the later stages of Parkinson's. Access for life to experts in movement, nutrition, and cognition is KEY to feeling better and moving better throughout your lifespan.
The key to moving forward and seeing positive changes in any aspect of life is having clear, objective, measurable goals. The only way to know if you are meeting these goals is to establish baselines, have frequent check-ins and update goals accordingly.
While we believe there are excellent programs out there; starting and continuing a program without consulting an expert about what is right for you, in our opinion, is like taking medication without consulting a doctor. Just as you work with your neurologist to determine the best medications or surgical options, you should work with your  movement specialists (Specialized Neurological/Movement Disorders Physical Therapist) to determine the best therapies and/or exercise programs for you.
Amplitude Specific Training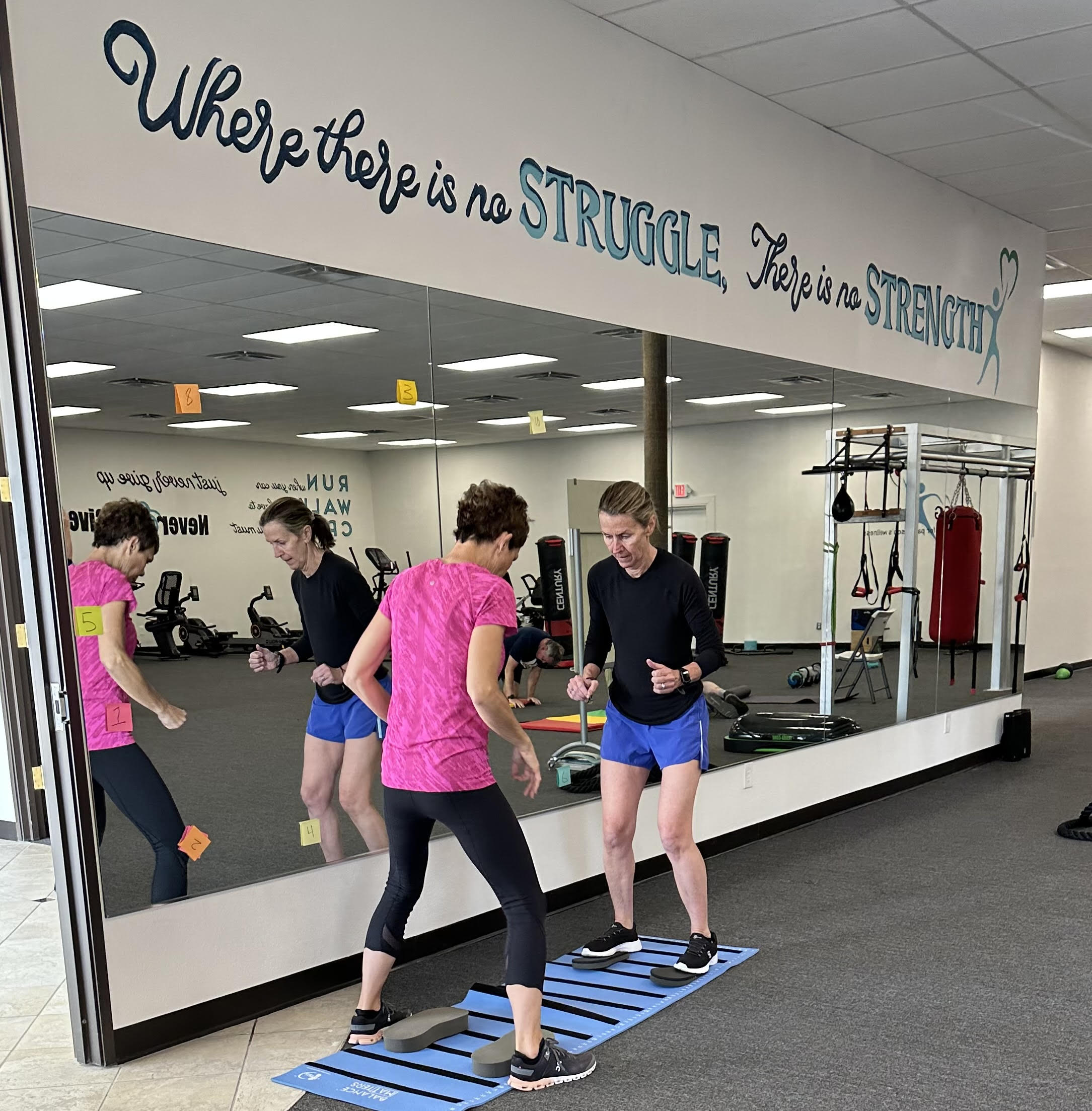 Pelvic Floor and Orthopedic Therapy
Did you know that your pelvic floor (surrounding your bowels and bladder) is made of muscle just like the rest of the body? And that physical therapists can help with problems like urinary leakage, constipation, urgency, pelvic pain, pain with intercourse and more? Even issues related. to menopause! We have an expert for that! Also an orthopedic expert for any aches and pains that arise during exercise. 
Exercise & Nutrition
It absolutely DOES matter HOW you exercise and WHAT you put into your body. Our exercise classes not only meet but exceed the updated recommendations from the Parkinson's Foundation.  Come learn how to fuel your body and move in a way that optimizes lasting brain changes for the better.
Physical Therapy
We believe in assessing the whole body and customizing a plan designed for YOU, not based off of a protocol. We value the principles behind the large amplitude programs and apply them daily but feel strongly that they do not assess everything. We look at the vestibular system, foot mechanics, bowel and bladder functioning, diaphragm movement and strength, flexibility, nutrition and fuel, comorbidities and more. 
Comprehensive physical therapy and lifestyle/nutrition assessments
Exclusive access to therapists via custom app
Personalized plan based on your needs
Group classes, social events, open gym access
Real Work.
  Real Results.
Whether you like to lift heavy stuff, punch away your stress or go slow, smooth and calm with your exercise, we have something for you! Look right for a few of our favorites.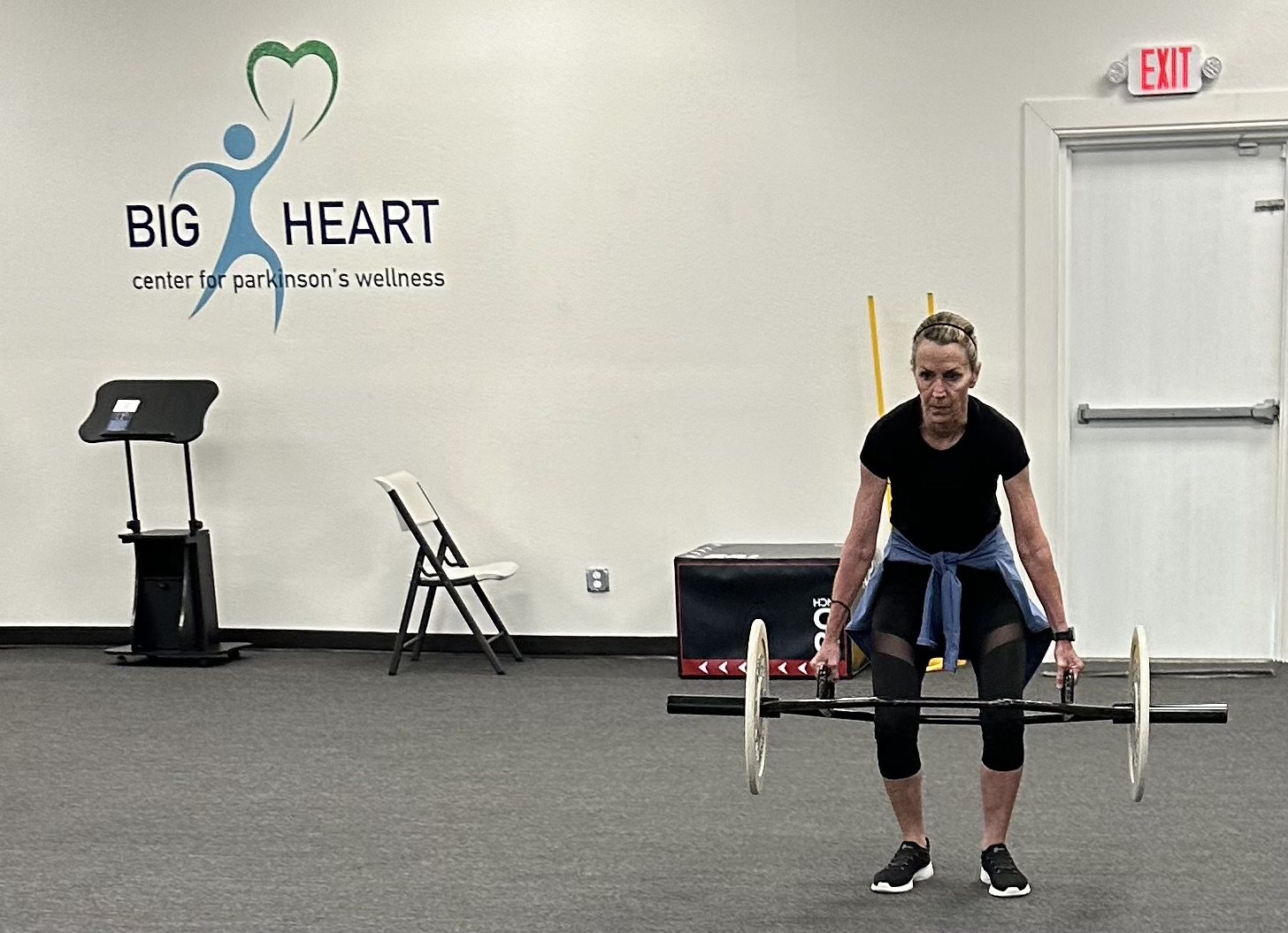 Strength Training
The Parkinson's Foundation recommends strength training 2-3 days/week and PROGRESSING resistance. We work on strength with weights, TRX straps and by using our bodyweight.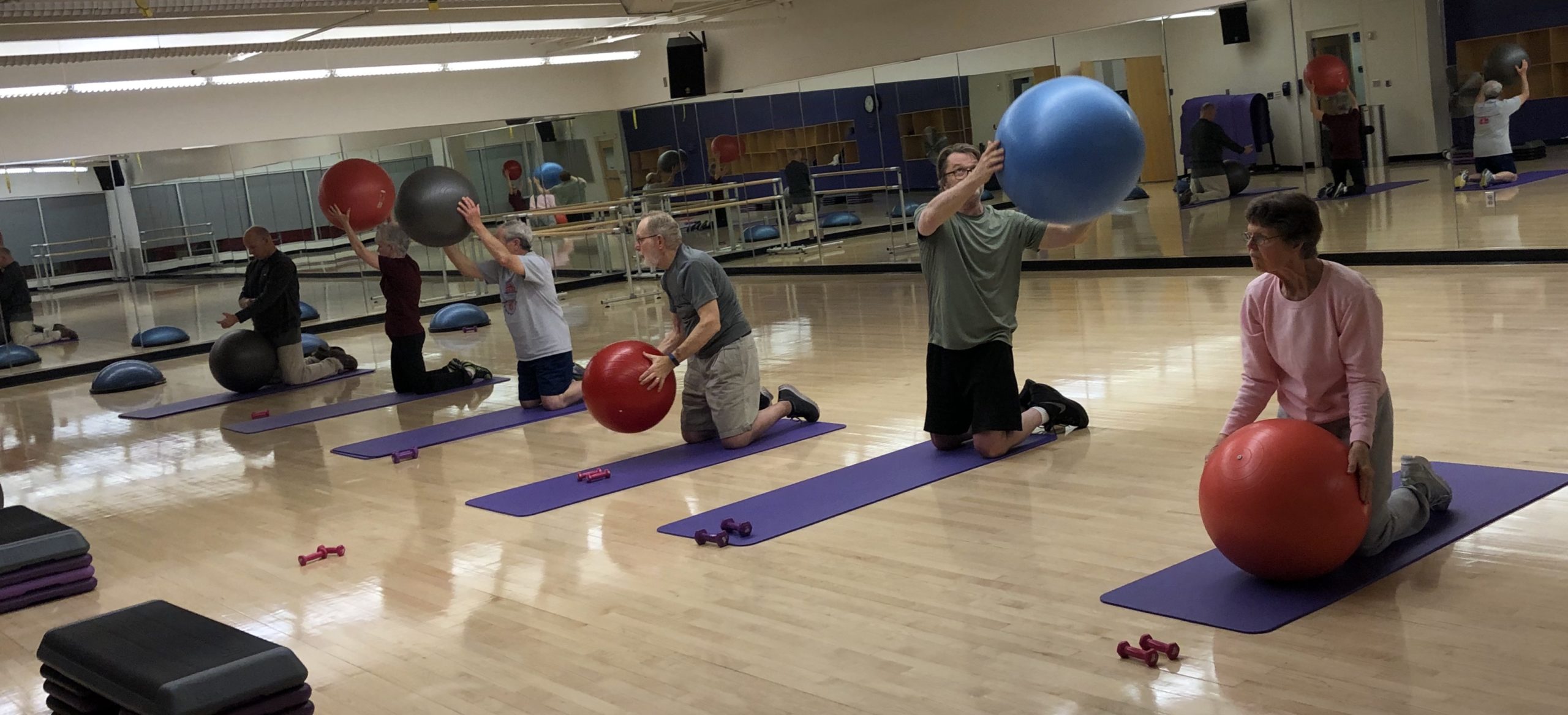 Mobility
Flexibility and ability to get on/off the floor are KEY to function and life. We can't be strong if we aren't flexible.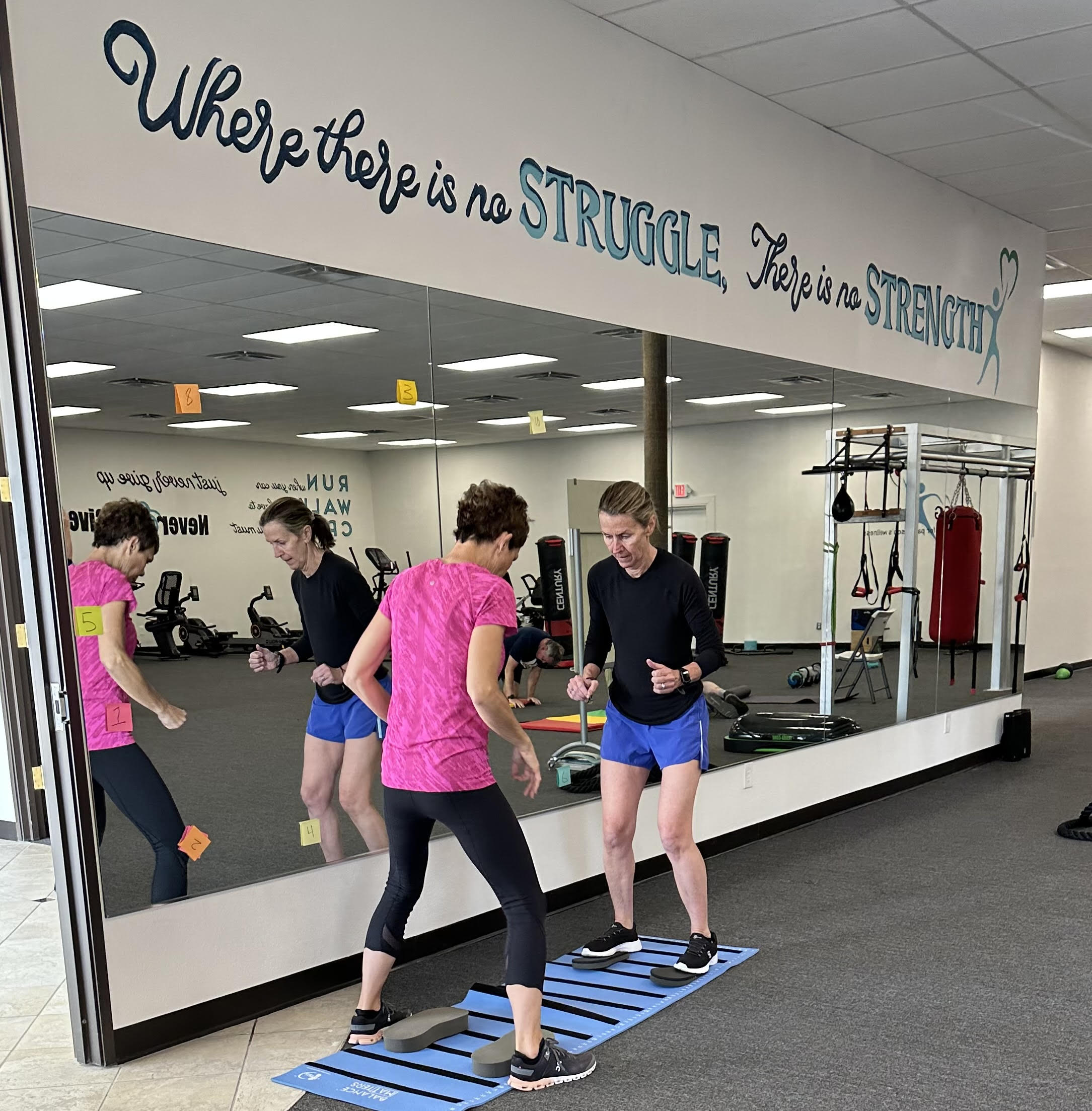 Group Cardio class
Aerobic exercise is CRUCIAL for driving positive neuroplastic changes in the brain. We make it happen while keeping it fun!
I was diagnosed over 20 yrs ago, and to say it has been easy is a complete stretch of the word. Last week I was asked something about when I was diagnosed, which reminded me of the "Top" Neurologist I was seeing at the time in Dallas and his words on my first visit which were: "You have about ten years to get your affairs in order". I thought to myself then, screw that, and he strongly encouraged me to stop playing basketball at the time, which completely puzzled me. Playing basketball was the only time I was feeling good. Of course, those were different times. But after him feeding me more and more prescriptions, and him not ever understanding what my symptoms were about because they were not in
the normal" box", I found a better neurologist that was more open to work with me and helped me reduce the medications. Every case of Parkinson's is so different. So, at that point, I also started trying different diets and other exercise programs. Some things worked
and others did not. But the question in my mind was why do I have to figure all these things out? Was everyone just accepting the same brutal end to this disease? I also learned there are two ways to approach fighting this disease, both have there pluses and minuses. One way is to be overly optimistic and the other is to be defiant. I seem to be more confident with the defiant avenue. Which at times hasalso caused me problems, but yet here I am.
In the 20 years of looking for all that works in my battle, I have been involved with exercise groups, although well intentioned they either lacked the background or care and could never fill the increasing void I had to fight effectively against my ever-expanding issues with the disease. That was until I ran across Alison Geymer. She has now over 16 years working with Parkinson's patients and has been just a complete eye opener in helping me. She has the ability to watch me move and tell me what's going on and how to fix it. As well as she is a diligent researcher in all things PD. She has helped
me out in so many ways I cannot even begin to explain. Whether it is diet, physical therapy, dry needling, which has become a favorite of mine, or just listening and trying to help me with which
vitamins and nutrients I should be taking after reviewing my blood tests. It has been monumental in my ongoing efforts to fight this disease. Now I must also say, it is not easy what we do. She drives us all to
be better. So, if you want to fight and fight hard against this disease, I will strongly recommend her.
It's been over 7 yrs since we first met and I am doing better than I was when we met, how many people can
say that?
Now why am I talking about this all? Well at the start of this year (2023) Dick Frazier has headed up the movement to have an even better place, more of a one stop shop! He has put together the talents of
Alison and Becky Morgan, a speech and cognitive therapist , who has over 10 years of experience working with Parkinson' s patients. To me, this is the place I have been ultimately looking for, and I am
thankful for Dick and his lead on pulling this together. The place is called Big Heart Center for Parkinson's Wellness. I am
so grateful for Dick, Alison and their team who continue to research, find and adapt our workouts or sessions so we can fight together as one team and the best we can be while fighting the effects of Parkinson's. It is the only place of its kind in the Metroplex that offers the experience and the tools needed for all
aspects of the disease. Once again you have to ask yourself how badly you want to fight against this disease, and if you want it badly enough this is definitely the place for you! Come in and get an evaluation!
I'll see you there!
We have an option for everyone! Contact us if you don't see a plan that works for you and let's customize one for you!
Open Gym Access
If you're just dropping in, then this may be for you. Caregivers welcome also.  If you're ready to tackle Parkinson's full-on, our Unlimited package could save you a lot of money.
Concierge Service
Want access to your therapists all the time? This will give you unlimited talk/text access to your therapist during business hours as well as 1x/month 30 minute virtual or in-person consult and adjustment to your home exercise plan. Also get priority scheduling for other services. 
Unlimited
Unlimited access to ALL of our exercise and Voice classes; up to 44 classes per month: including Rock Steady Boxing, PWR! Moves, TRX, Strength and cardio classes as well as Loud Crowd and Karoake group!

Add Open Gym access for only $30/month
Nutrition and Wellness Membership
Ongoing wellness counseling including nutrition assessment and advice, lifestyle factors such as optimizing sleep, exercise, supplementation, stress levels, breathing, meditation, etc! Includes one 60 minute consultation per month. 
Limited Membership
3 classes per week

Comprehensive assessment required

*Insurance may pay for comprehsneive assessment*

Add Open Gym access for only $30/month
Drop In
Just want to check out a class? Not ready for a full committment? Then this is for you!
* Insurance may pay for your comprehensive assessments and any one-on-one therapy. Classes are cash pay only.*
Which option is right for you? 
1-Time Comprehensive Assessment
Contact us now to take charge of your health and wellness!